FargoRidge offers puppy counselling, and it's free
Need help choosing what breed would fit your family?
Looking for a rescue puppy?
How do I choose a reputable breeder?
How do I pick the right puppy from the litter?
Do I want a male or female?
My puppy is here, now what do I do?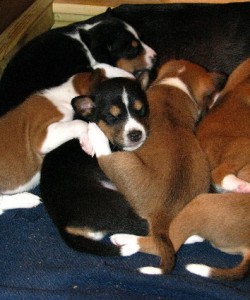 We're here to help you before you choose your puppy. Long are gone the days of opening a newspaper, heading to a pet store, or puppy shopping on Kijiji. Our extensive knowledge of different breeds and breeders, local and afar, through breed club memberships and rescue affiliations can help you find the best place to discover your new furry friend. Be it a Labrador, a Chinese Crested, a Basset Hound, a Dalmatian, a Sheltie or a Xoloitzcuintli puppy you are looking for, chances are we know the right people to call.
Supporting a responsible breeder means asking for references, seeing copies of health clearances on the parents, belonging to a breed club, socializing your puppy properly, providing veterinary care for mom and puppies. But most importantly, it ensures that you end up with the best possible puppy for your money. You may not want a show dog, but the best place to buy a puppy is from a show breeder.
It's not more expensive. You're looking for a family member. Take the time and do the research.
Call us or email us. It's free, and it makes us feel good.
Puppy Socialization
An absolute must for your new furry friend.
All breeds of all puppy sizes welcome.
Call or email for details.